Don't see what you're looking for? We have tons of products and ideas to fit your budget and event. Call us today to find out how we can help you! 1-206-301-9999

To help us process your order quickly and accurately, please email info@thinkingalike.com:

Your Desired Chocolate Items
Quantity
Your Contact Information
Your Logo/Artwork (For Custom Chocolates)
Payment Preference
Delivery Address

We accept MasterCard, Visa, Checks or Paypal. Currently, this is not an ecommerce website so we will contact you to make sure we take your credit card info in the safest way that is comfortable for you. We'll be in touch with the progress of your order.

Feel free to contact us at info@thinkingalike.com or 206-301-9999 with any questions.

Chocolate



Who loves chocolate? Try combining rich flavor and real visual excitement for your next promotion or giveaway. Nothing sounds so sweet for your promotion, celebration or even wedding favor!

All types of businesses and organizations can strengthen and build relationships by sending chocolate. It's a chance to associate those feelings with a brand or corporate identity using a very versatile product...And it's not just any chocolate. Your logo, message or artwork is beautifully engraved on solid, mouth watering 100% Premium Belgian Chocolate. The finest quality too! It's more difficult to produce but the rich flavors, the creamy texture and the amazing detail that is produced on your custom chocolate is worth the investment.You can choose from milk or dark chocolate to help accent your message.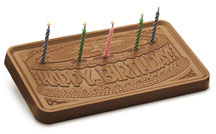 You'll discover a myriad of different chocolates to choose from that come in all shapes and sizes. www.chocolate2.com And if you're feeling a little wild and would like to "Shape Your Own Message", we can help you design a customized shape of your very own. Anything you can imagine! Your custom shape is designed to your specifications. Contact us for more info and help getting you started with this. If you need some assistance with brainstorming a particular shape to fit the theme of your promotion, event or celebration feel free to contact us as well at info@thinkingalike.com or 206-301-9999.
Our chocolate raises the bar! The most advanced molding technology in the industry is used when creating your chocolate. Plus, you get all the following for FREE!

FREE Storage for paid orders - for up to a year
FREE Custom Imprinting on Gift Bands
FREE Gift Packaging (included mostly on larger items)
FREE Ice Packs for warm weather shipping
FREE Paper Proofs
FREE Logo Plate Set-Up fees on Re-orders



Also, If you don't have a need for customized chocolates, we have ready made designed chocolate for different occasions in our "Express Collection". Please visit the custom factory www.chocolate2.com that helps us create your chocolate and click on "Express Collection" to see many items perfect for gifts or recognition ready to ship!

General Information



Artwork Requirement For Chocolate Molds
Artwork for logoed chocolates should be sent as black and white high resolution EPS vector art files. All fonts should be converted to outlines. All artwork should be PC-formatted and compatible with Adobe Illustrator or Photoshop. Digital artwork preferred. Must be at least 300 dpi resolution. If you do not have a logo and just prefer us to typeset a phrase or two on your chocolate, we can create that at no cost but a chocolate mold still has to be created and will be charged. Also, if you're not sure whether your art is usable and want us to check it for you, go ahead and send it to us and we'll let you know. Please email your art or questions to info@thinkingalike.com.



Returns/Exchanges
We at THINKALIKE are committed to the quality of our products. All merchandise from THINKALIKE is guaranteed to be free from defects of material and workmanship. Any merchandise found to be defective will be replaced or a refund will be issued. You must call and notify us of the problem within 2 days of receiving the defective merchandise so we may start the refund process, replace your items or if we have to issue a freight claim with the shipping company. THINKALIKE must authorize the returned merchandise. info@thinkingalike.com or 206-301-9999.



Shipping
We will make every effort to ship your order as quickly as possible. Generally, your chocolate will ship in 12 to 14 business days from receipt of art proof approval. When you order "Express Collection" chocolates, they will ship in less than 7 days. Ground shipping charges (including insurance) will be added to your order unless specified otherwise. Shipping rates to Hawaii and Alaska are additional. 8.8% sales tax will be added to deliveries to Washington state.

Gift Packaging
The FREE Gift Packaging is included with our larger items: 2lb, 1lb and 1⁄2 lb gift bars; 45pc, 36pc and 19pc assortments, cookie boxes and chocolate boxes, mid-sized bars (4x4 & 4x6) and small assortments (12pc, 8pc, 6pc & 4pc) and giant shaped bars.



How To Order
This is currently not an ecommerce website. So, to help us process your order quickly and accurately, please email info@thinkingalike.com:

Your Desired Chocolate Items
Quantity
Your Contact Information
Your Logo/Artwork (For Custom Chocolates)
Payment Preference
Delivery Address



Click here to view Chocolate Images, Descriptions, Pricing and Ready To Ship "Express Collection" Items from the chocolate factory that works with us to produce your chocolate.

We'll be in contact with the progress of your order. Feel free to contact us for help getting started creating your custom chocolate or if you have any other questions. info@thinkingalike.com or 206-301-9999. Mastercard, Visa, Check and Paypal accepted.