Canvas Art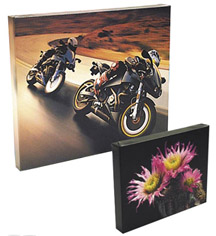 What if you could have your favorite photo created into a museum quality custom canvas art piece? Gotcha thinking, huh? Well, we can make that happen for you! We are fortunate to be involved with a unique imagemaking process that allows us to take your favorite colored or black & white photos and transform them into beautifully crafted canvas pieces that are ready to hang. The results are amazing!
We can have any of your personal digital images or snapshots produced on your canvas that has special meaning to you, a friend or a business associate. How about a photo that reflects some exciting memories of a favorite vacation you went on? Or a favorite group photo of your friends, your children or your pets? What about a favorite wedding or anniversary photo? Consider using a photo of a building to help commemorate and promote the history of the company or organization you work with. The sky's the limit...or should we say, the world is your canvas!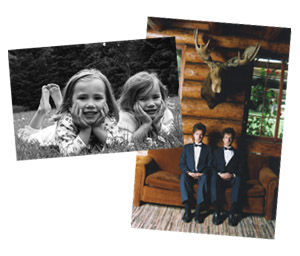 You can also purchase these quality canvas pieces for business gifts or use in your branding campaigns. Make it a prize possesion and add some finishing touches to it by personalizing it! We will add your logo, company name or tagline on the canvas for FREE. Really! We will work with you to place your logo or personalization in the most visually appealing area on your canvas. Another idea is to create a wonderful thank you gift for your client or customer by adding their logo or personalization to an image you know they'll appreciate.
The Art Process
The term used to transform your photo or image on your canvas is called "Giclee". (zhee-clay) This exclusive process includes injecting seven color pigments onto a specially coated high quality canvas using a special Borderization technique and then applying a UV protective coating that will last for 100 years. So, your photo or artwork won't fade! This unique process produces excellent color matching so the accuracy is better than other means of reproduction. These heavyweight canvases are perfect for photographic or fine art reproductions. After your photo or artwork is applied to the canvas, it is then stretched and wrapped around a specially designed internal supportive wood frame (MuseumWrap™) complete with ready to hang hardware. The custom made frames for your canvas are 1 1/2" wide and 3/4" thick. They are made of the wood Poplar .
To care for your canvases, we recommend that you clean them with a soft dry cloth or feather duster. It's as simple as that!
You can see your exciting personal images transformed into masterpieces on 4 different available canvas sizes. If your photo or artwork has to be cropped or it doesn't fit well proportionately with the 4 different sizes listed below, we will create a custom size canvas within one of these 4 sizes for no extra charge (Example: The photo you give us may look proportionately better on an 9" x 12" or 13" x 18" canvas instead of the sizes listed below). If you desire larger canvas sizes other than the sizes listed below, contact us for a quote.

General Information:
Photos
Send your photos to info@thinkingalike.com in quality High Resolution Digital JPEG or TIFF Files. Images need to be saved at least 300 dpi minimum. If you own a flat bed scanner, you can scan your image at 300 dpi resolution. Secondly, save the file in RGB mode using JPEG format with the highest quality setting and lowest compression.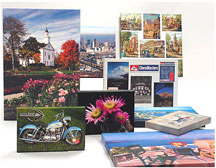 If you don't have a scanner and need some assistance, please feel free to contact us for help at info@thinkingalike.com or 206-301-9999. You can also have your photos scanned into a 300 dpi JPEG or TIFF digital file at a professional location (such as Kinkos or other similar professional locations) before submitting them to us. You will always be notified before we print your canvas if we run into a dilemma with your photo.

FREE Personalization
Add your logo, company name, your tagline or a favorite phrase to your canvas art pieces at no charge. Please send your Logo/Personalization/Name of font to info@thinkingalike.com in a high resolution EPS, JPEG or TIFF file if you'd like to have it added to your canvases.
Art Charges
Factory created art for $50.00/hour will be quoted prior to production if necessary.
Production Time
Your beautiful canvases will ship in about 10 business days from receipt of Photo/Art proof approval.
Shipping and Handling
Shipping & Handling charges of $14.00 including insurance will be added to your single canvas order. Contact us for additional rates to Hawaii and Alaska. 8.8% sales tax will be added to deliveries to Washington state.

Packing and Shipping
All of your items are carefully bubblewrapped and boxed for protection during transit. Your items are shipped via UPS Ground unless otherwise stated.
Returns/Exchanges
We at THINKALIKE are committed to the quality of our products. All merchandise from THINKALIKE is guaranteed to be free from defects of material and workmanship. Any merchandise found to be defective will be replaced or a refund will be issued. You must call and notify us of the problem within 2 days of receiving the defective merchandise so we may start the refund process, replace your items or if we have to issue a freight claim with the shipping company. THINKALIKE must authorize the returned merchandise. info@thinkingalike.com or 206-301-9999.

Uses
• Hotels and corporate offices
• Holiday and employee gifts
• Home gift
• Real estate developers and realtors
• Car dealerships
• Sport teams
• Schools and colleges
• Incentives
• Signage
• Awards

Pricing
Image Size

Quantities

1

6

12

13" x 10"
14" x 9"

$87

$82

$77

18" x 15"
20" x 14"

$147

$137

$127


It's easy to order. To help us process your order quickly and accurately, please email info@thinkingalike.com:

Your Photograph or Art/Illustration (High Resolution JPEG or TIFF file at 300 dpi or higher).
Desired Canvas Sizes
Logo (if any) in a High Resolution EPS, JPEG, TIFF
Personalization & Name of Font (if any)
Your Contact Info.
Payment Preference
Delivery Address


Currently, this is not an ecommerce website so we will contact you to make sure we take your credit card info in the safest way that is comfortable for you. We accept MasterCard, Visa, Checks or Paypal. Feel free to contact us at info@thinkingalike.com or 206-301-9999 with any questions. We'll be in touch with the progress of your order.